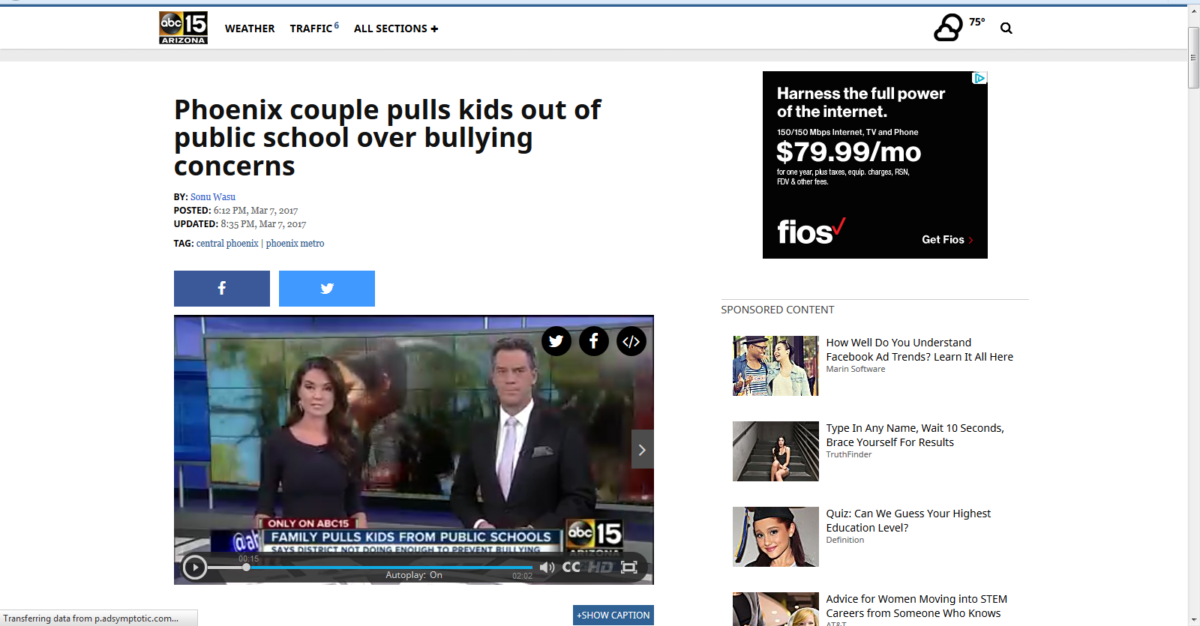 There's too many parents having bullying concerns in this country for this not to be a real issue.
Recently, a petition appeared online with 100 signatures of seemingly disgruntled parents, who are unhappy with bullying incidents taking place at a Florida school. A Kentucky middle school also recently faced a federal bullying lawsuit because parents felt the school staff school staff never took the proper action.
According to ABC15 in Arizona, a local family had four children attend Alta Vista Elementary School who were verbally, and even physically assaulted. This was allegedly brought to the attention of the school, but reportedly, no action was taken.
You can read an account of the story below:
---
A Phoenix couple is making the drastic move of pulling all of their children out of public schools, saying their bullying concerns seemed to be falling on deaf ears.
Clarissa Walker and Tim Moore had four children enrolled at Alta Vista Elementary School, which is part of the Washington Elementary School District.
The couple says their children were coming home every day, complaining about being bullied at school.  The incidents ranged from being called derogatory names, insults hurled toward their families and the way they dressed, and their mixed heritage. The couple said their daughter even came home with bleeding scratch marks on her neck one day.
Walker and Moore said every single time they took these concerns to staff at Alta Vista Elementary School.
"We've maybe gone to the principal's office, met with teachers and brought this up maybe 20 or 30 times," said Walker.
"All we ever hear is, 'We'll do an investigation, we'll do an investigation,'" said Moore.
The parents said their children were terrified to go to school, and would beg to stay home.
"Sometimes my daughter wouldn't go to sleep at night. She would tell me very late at night because she was traumatized from getting bullied every single day. It was getting to her," said Walker.
Even their young son was fearful of going to school.
"He would be like, 'Can I stay home dad? Please. Everybody picks on me, they pick on us,'" Moore recalls the boy saying. "How am I supposed to tell my 7-year-old you have to go to school, to what? Get bullied?"
To continue reading the article, click here.
Save