Parent Guide Introduction
So many Online Child Safety guides are just scaring parents, without telling them what they can actually do; and this is why we came together, a group of cybersecurity experts and parents, to create a different guide. It's updated for August 2020, and it's all about steps you can take to protect your child from Sexual predators, Cyberbullying, Mobile phone addiction, and hurtful content. While we don't think you should panic as a parent, you do need to be aware of the risk's magnitude, as every kid could be affected.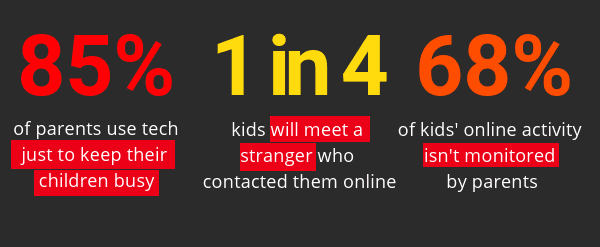 What can we do as parents?
Instead of using technology to just to keep kids occupied, we need to educate them about it. Instead of sticking phones in their tiny hands at younger and younger ages, we need to tell them about the dangers of online life. And instead of hoping everything will be just fine, we need to take action, check our kids' activity, and make sure it actually will be fine.
This comprehensive guide will show you how. In it, we've outlined eight areas that you should pay attention to as you navigate this complex online world – from mobile devices to social media, gaming, cyberbullying, and information security.
The usual challenge is that most parents don't really understand platforms like TikTok, Instagram, Snapchat and even Twitter – not to mention 4Chan and gaming communities. But for their kids, the online world is more real than the real world. It is crucial for our children's sake that we understand what they see online, what is out there, both good and bad, and how it impacts their physical and emotional well-being.
The good news is that it's not that difficult to put certain technical controls in place to protect your children online. Far more importantly, the best thing you can do to protect your children is to talk to them. This guide will help you set clear boundaries for what and when they access online, but also to be there for your children when they make a mistake, or when they have gone too far. Isn't that what parenting fundamentally comes down to?
1.  Mobile phones and apps
According to research by SellCell, the average age that children get their first smartphone is 8 years old and it seems to keep dropping. The average was 10 in 2015 according to 000. While giving a child a smartphone comes with some benefits, it's easy to forget they're no less than a Pandora's Box.
Smartphones give kids unprecedented freedom: The ability to communicate with people without supervision, to consume whatever content they desire and even act forcefully towards other kids online with ease. If they don't know how to behave with their phone, follow basic ethics and caution, and be aware of the risks – they could fall victim to online harassment, Malware and money theft, get exposed to violent or sexual content and far worse. Since smartphones are personal devices, we don't often know what our children do with them, how they use them, and what threats they encounter.
If you're considering giving your child a smartphone, it's critical to have some clearly outlined guidelines in place beforehand, so that everyone is on the same page. If your child already has a smartphone, it's not too late to review the family rules. Demonstrate to them that having a smartphone is a big responsibility.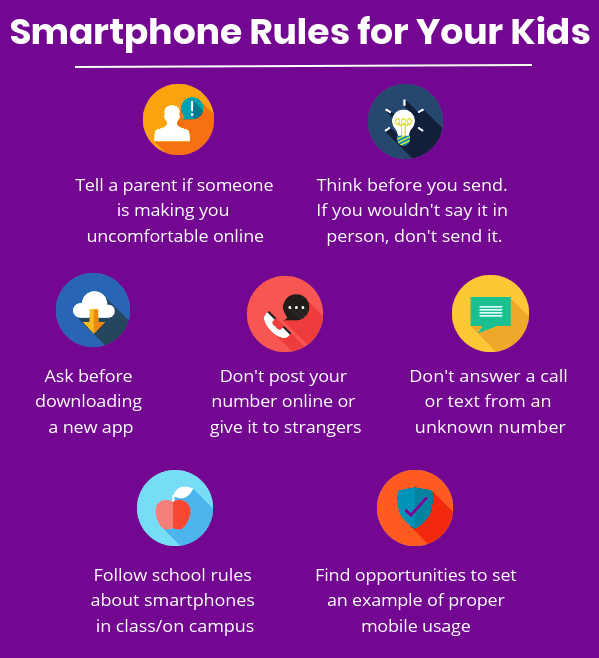 Implement smartphone rules with your child. Making sure your kids involve you on their phone activities with help keep them safe.
There are many precautions you can take to implement phone safety:
Have your kid sign a smartphone contract before you give them one. Print out a list of cellphone rules and stick it in a public place in your home.
Download parental controls. Parental control apps for younger children enable you to limit your child's usage, determine their location, and monitor their calls and messages. Apps also allow you to shut off certain functions at different times. For example, disabling text messaging on dinner times.
Set limits when your child can use a smartphone and for how long each day.
Set a personal example for your child. Don't bring your phone to the dinner table, and don't text and drive.
Set up a charging station in a central location in your home. Phones should stay out of your child's bedroom so they won't be in use late at night.
You can install an app to monitor your child's texting. Keepers is one type of app that alerts parents about harmful, abusive, or suspicious messages, and it includes a tracking device to show your kid's location in real time. This is especially important, as 19% of youth report having received a sexually-explicit text message.
2.  Streaming content and smart TVs
Streaming content has shot up in popularity, and there are more TV shows and movies available at our fingertips than ever before – much of it not particularly appropriate for kids. While there are great educational shows on Netflix, Hulu, Disney+, Apple TV+, BBC iPlayer, and others, children will always be drawn to popular shows everybody's talking about – without knowing how violent, sexual or disturbing they could be for a kid. And there are a lot of opportunities: According to 2019 JAMA pediatrics research performed in the UK, Children aged four to six consume 89 minutes of television every day on average.
How can you make sure your kid won't be exposed to unwanted content?
Most of the big streaming content providers have parental controls
Some more robust than others. Netflix allows you to set up separate profiles for you and for your children.
Using these tools, you can ensure that your kids only have access to age-appropriate content. Because Netflix's children's menu features a different color scheme than the regular menu, you can easily see whether your kids are accessing the content permitted to them or not. However, this doesn't stop kids from moving over to your profile, so you still have to be vigilant.
iTunes and Apple TV allow parents to set rating levels for the content their children watch. By contrast, Amazon Prime features no parental controls, so the only thing to do is to logout of your account and not share the password.
All of these tools, however, do not replace having frequent conversations with your children about what they watch. They need to know that even if a show's name is mentioned all the time, it doesn't mean it's right for them.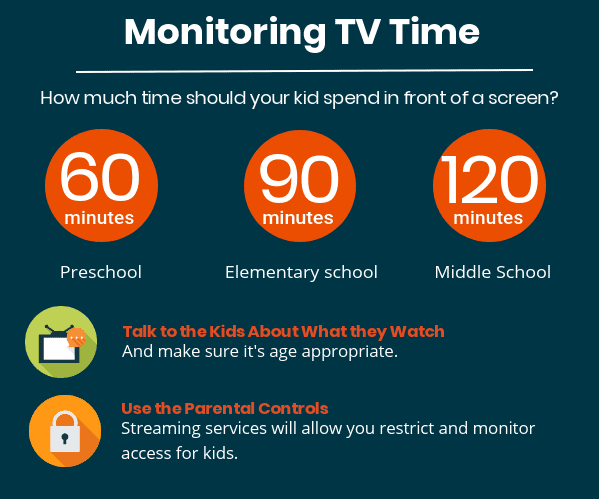 Monitor TV time by limiting the number of hours they watch per day, incorporating parental settings, talking to your child about the content they watch, and spending TV time as a family.
3.  Gaming consoles and online games
21% of all video game players in the US are under the age of 18. With so many games featuring violent or sexual content, and so many platforms to play on, it is important to be careful about the kinds of games your children play.
In addition, many games that have a multiplayer component, or are just entirely based online, which makes them open to abuse from other players, harassment, and sexual advances through the game's chat system. Kids may also form relationships with other players and may give away their personal information.
But not all is bad:
Games are also a great way for kids to develop a variety of skills. They help children develop problem-solving skills, learn how to commit to long-term goals, and how to work as part of a team. They can also be a great opportunity for family bonding. In order to make sure our kids will enjoy the benefits of gaming and not suffer from its risks, we need to monitor their gameplay.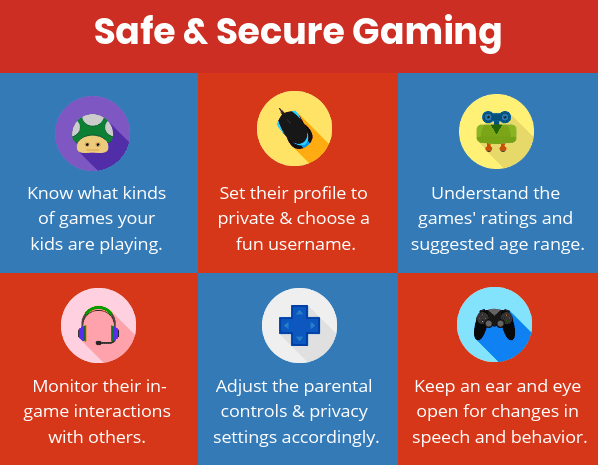 Encourage your children to discuss the games they play. Make sure your child profile is set to private. Consider keeping the gaming console in a shared, social space. Study the age rating of the games. Use parental controls to set up profiles. Limit the type of people your child can speak to online.
4.  Social media
Social media usage is now ubiquitous among US teens; 71% use more than one social platform. Children nowadays also spend an enormous amount of time on social media. A survey by the non-profit group Common Sense Media showed 8 to 12 year-olds were online six hours per day. Much of it on social platforms, and 13 to 18 year-olds a whopping nine hours!
Most social media platforms require users to be 13 years of age to sign up. However, 68% of parents surveyed had helped younger children set up an account. This is according to a recent Harvard study,
Social media can be particularly addictive for tweens and teens.
It opens the door to a variety of different issues. This includes cyberbullying, inappropriate sharing, and advances from sexual predators (more on those below).
Access to social media is also central to teens' developing social identity. It's the way that they connect to their friends, and it can be a healthy way to hang out. The key is to set boundaries so that it remains a positive experience.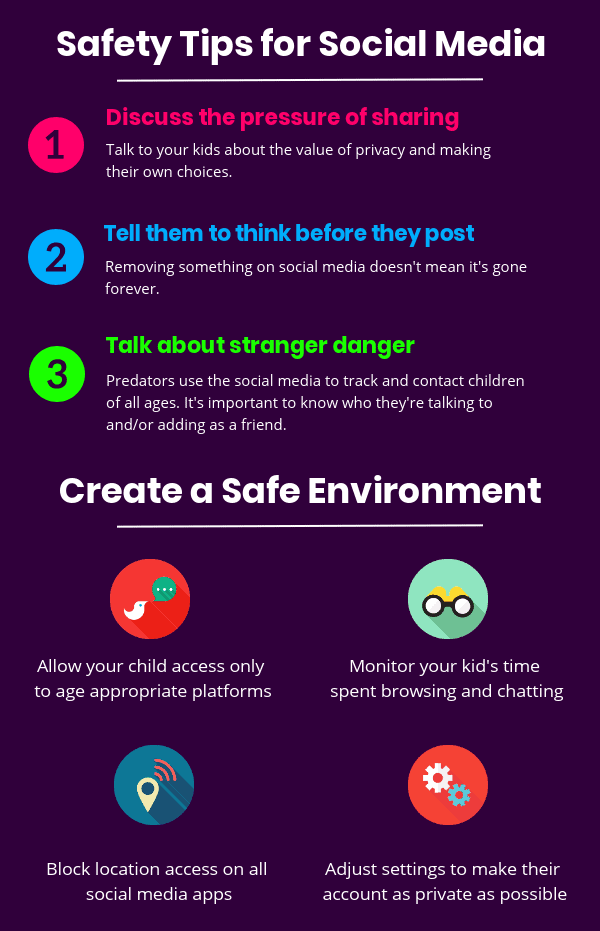 Enforce a safe environment. Do not let your kids on social media until they're old enough. Keep the computer in a public location. Limit the amount of time spent on social media. Block location access to all apps. Adjust the privacy settings. Monitor your child's online activity.